Dion Dublin 1998-99

Dublin started his Villa career with a bang! 7 goals in his first three games showed he was a more than able replacement for defecting Dwight Yorke. Dublin was Villa's leading scorer until well into the new year when his inury problems started.
Long term injuries hampered his season and he finally ended with 11 league goals.

Goal Breakdown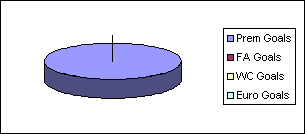 Dublin saw every single one of his goals come from FA Carling premiership games.
Villa's abysmal cup record this season included a mauling at home to third division Fulham in their first game. Their FA cup run didn't hold out much longer either, and Europe was ruled out by a sound home thrashing against the Spaniards Celta Viga.

Goals/Appearances
Dublin scored his 11 goals from a total of 24 appearances. This consisted of 24 full appearances and no substitute appearances during the season. His goals per game ratio (number of appearances not time on pitch) is 0.46, almost a goal every other game. This was Villa's highest goal/game ratio this season.
Where from here
Dublin joined Villa through the season when they were firmly sat at the top of the premiership and his goal bursts maintained they stayed there.
Even Dublin couldn't have predicted a better start to his Villa career with 2 goals on his debut (his hat trick goal was ruled out) then a hat trick in his second game and 2 in his third (missed a penalty for his hat trick) taking him to 7 in 3 games.
Injury ruined his season and he will be determined to spead-head Villa's attack on the premiership this season. My predicted leading goal scorer if he stays clear of long term injuries this term.
---
Martin Sivorn © 26 Sep 99.E-Mail Me